Little boy wins international music prizes
Update: August, 04/2019 – 08:37    …. By Nguyễn Bình
For many parents, introducing their children to the piano at a young age is a chance for their children to begin to learn about music. Most parents hope their kids will be able to enjoy classical music when they are older, but few can expect their children to embrace music as fully as Nguyễn Sơn Tùng.
He may still be a few months away from his sixth birthday, but little Tùng has already participated in four international competitions this year, including the American Protégé Spring International Music Talent Competition, the Berlin Grand Fix International Online Music Competition Stars, the Salzburg Grand Prize Virtuoso in Austria, and the Amsterdam Grand Prize Virtuoso in the Netherlands.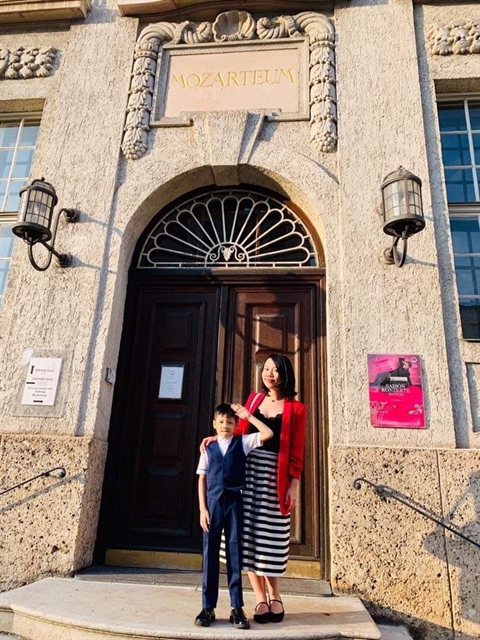 The American Protégé Music Talent Competition is one of the most famous of its kind in the world, and overseas Vietnamese Evan Le took home the top prize.
Tùng took third place in the category for kids aged five to nine. He also received an honourable mention for his performance at the competition in Berlin.
His biggest achievements so far were first prize at the Grand Prize Virtuoso in Austria and the competition in the Netherlands. That alone is remarkable enough, but everyone who knows Tùng says the best is still to come.
He has just returned from concerts in Salzburg and Amsterdam, the first trip he and his mother have taken to Europe. 
During the trip, he surprised his mother and teacher by waiting patiently to practise in crowded public places in big cities.
"A lot of people passed by and they were interested to see this Asian little boy playing popular pieces," Tùng's mother Phí Thị Thanh Xuân said.
"I could see his dedication when we would walk around for hours finding places for him to play, sometimes walking more than 10km," she said. "Plus, it was not easy to find things for him to eat because the food is so different from back home."
Tùng and his mother may have felt far from home, but that all changed in the Netherlands when they found a phở [beef noodle] restaurant run by overseas Vietnamese people.
The owners were surprised to see them and hear their story, so they greeted Tùng warmly and treated him to a special bowl of phở.
"I just ate half of the bowl because it was very big," Tùng said. "I went to Thailand, Germany, Austria and the Netherlands. Only on the flight to Thailand did I have rice to eat."
Even though these were Tùng's first competitions, he was excited to perform in front of the crowd and did not feel nervous, though his mother may have been nervous enough for both of them.
Tùng performed the baroque piece Little Prelude by Bach and classicalSonatina by Muzio Clementi at the concerts in Amsterdam and Salzburg.
"The pieces are difficult to play even for a young piano student," his teacher Đoàn Hoàng Khánh Linh said.
"Most good piano players cannot learn them until they are at least 11 or 12 years old," Linh said. "Bach's works are hard to play and even adults struggle to learn the notes by heart; it is so easy to make a mistake."
image: http://image.vietnamnews.vn//uploadvnnews//Article/Thanh_Hai/2019/8/5/aa-1.jpg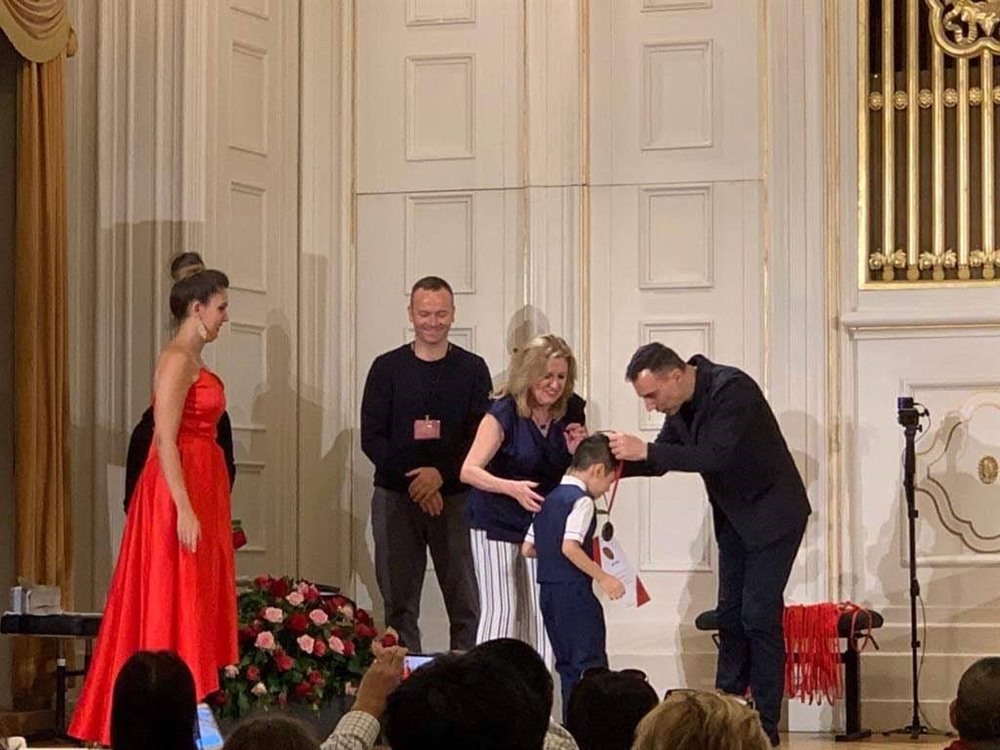 Tùng's mother is a housewife, while his father has a doctorate in pharmacology working at the Military Traditional Medicine Hospital.
The first time Tùng saw a piano was when he and his mother visited a neighbour. Tùng saw the neighbour's son practising and couldn't look away, so his mother asked him if he wanted to start lessons.
Tùng was four when he started learning piano at Dream Music. From the start, he enjoyed his lessons and loved learning. His happiness left his mother sure the lessons were the right choice.
"When I took him to the piano class I was afraid he would cry because he was so small and very shy," Xuân said. "However, he was very excited and after every lesson, his teacher told me he learnt quickly and had a good memory."
At that time, Tùng did not have a piano at home and had to go to the neighbour's house to practise. For two months, every night after finishing dinner, he grabbed his books and his mother took him to practise.
Seeing his dedication and the early signs of his talent, his parents decided to buy a piano and invite the teacher to their home twice a week.
After a while, his original teacher was too busy with other work to keep teaching Tùng, so his parents reached out to Linh who is studying for a Master's of Teaching Performance at the University of Melbourne in Australia.
He began studying online with Linh. His mother would record him practising and send the video to Linh, who would listen and watch his fingers.
They speak online almost every day, with Linh telling him what he needs to practise and change.
"He has good logic," Linh said. "In music, logic and memory are most important to understand and recall the information. The most important thing is that Tùng's mother supports him and he is very studious."
Tùng is Linh's youngest student. After studying together through Viber and video for six months, they finally met for the first time when Linh returned to Hà Nội in June.
It did not take long before Linh realised her young student's talent and decided to train him for competitions.
Sometimes he is discouraged by the difficulty of the pieces, but he takes plenty of time to practise and his mother is always there to help and encourage him.
Every night, he practises for one and a half to two hours. If he is learning a particularly difficult piece, he may spend four hours per day on it. When he was preparing for the competitions in Europe, he was frequently at the piano for six hours per day.
Like many other children, he is also interested in playing games, watching cartoons, playing football and learning English. Sometimes he is so absorbed with them that he forgets to practise, but he is always quick to run to the piano when his mother reminds him.
Tùng recently attended the music exam for Trinity College London's grade two in Hà Nội, a test usually intended for piano students aged nine or older.
He has not learned his results yet but he has had little time to worry about them because he has been so busy learning Flight of the Bumblebee, which is five pages in length.
"I like this piece but it is long so it is a little difficult for me," Tùng said.
His teacher wants him to participate in the 2019 Piano Festival Hà Nội from August 17 to 25, and his mother hopes for his visa to be approved to travel to New York to perform at Carnegie Hall this December. With the best still ahead for young Tùng, the next performance could be a turning point in his music journey.